Did you know that not all people who hold a real estate license are REALTORS®?
Both REALTORS® and Real Estate Agents hold a Real Estate License. However, there are differences between the two. A person who calls themselves a REALTOR® is a member of a professional group of licensees located locally, throughout the state and throughout our nation. They make the commitment to further their professionalism by abiding by the REALTOR® Code of Ethics and Standards of Practice. The REALTOR® Code of Ethics is based on professionalism and protection of you, the consumer.
When you see the word REALTOR® or the trademarked blocked R, as it is below, know that this is the Mark of a REALTOR®.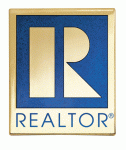 Why would you want to use a REALTOR®?
1. REALTORS® can give you up-to-date information about the market and can competitively price your home based on competing similar properties in the area
2. REALTORS® will list, market and show your property to the public and to other REALTOR® professionals who have buyers for your home
3. REALTORS® stay objective so they can help you evaluate and negotiate buyer's offers on your home
4. REALTORS® can help guide you through the closing process of your home
5. REALTORS® have many resources when looking for a home for you
6. REALTORS® can provide objective information on property you are interested in purchasing
7. REALTORS® can help you initiate and negotiate contracts for you
8. REALTORS® can guide you through the entire process from searching for your home, to drawing up the contracts, to evaluating the property, and finally to guiding you through the closing process