---
This website is devoted to our Realtors®, Business Partners and our community. We value our community and members and strive to help in any way we can. Please help us, help you, by offering suggestions and making this a valuable resource for your business. Our goal is to provide an easy to use "first source" website for you!
If you have a suggestion click here to send an email!
---

It is Not Too Late to Influence Congress on Tax Reform
Thanks to our members' engagement, REALTORS have helped positively influence tax reform in some key areas. For example, both the House and Senate have agreed to maintain deductibility of state and local property taxes up to $10,000, and to maintain Section 1031 tax-deferred exchanges in their present form for real estate investments.
BUT OUR WORK IS NOT DONE. We still have an opportunity to influence Congress to help make the tax reform bill more favorable to homeowners and consumers. Now that both the House and Senate have passed The Tax Cut and Jobs Act, a Conference Committee will begin to address the differences between the two bills. Important improvements in the legislation are possible by encouraging Congress to maintain the current law for the mortgage interest deduction and capital gains exclusion. Retaining current law makes the bill more favorable to homeownership.
Take action to tell Congress to protect middle-class homeowners. Click HERE to Take Action NOW!
---
Are You a Homeowner? If so, Speak Out Now!
You Can Help Save the Dream of Homeownership!
Tell your Members of Congress you oppose any tax reform plan that would weaken the tax incentives for owning a home, such as the Mortgage Interest Deduction, and not to let a tax reform plan increase taxes on homeowners by eliminating the state and local tax deduction.
The recently released tax reform framework promises to lower taxes for the middle class and create economic growth. However, restricting the Mortgage Interest Deduction to just the top 5 percent and repealing the deduction for state and local taxes would eliminate the time-honored tax incentives of owning a home for current and prospective homeowners. It could also lower the value of all homes by more than 10 percent and inhibit growth.
It is time to SPEAK OUT! Click Here to Send Your Message to Congress!
---

Take ACTION TODAY!
Help Reform Our Tax Code
AND Protect Middle Class Homeowners!
Click

HERE

& Take Action NOW!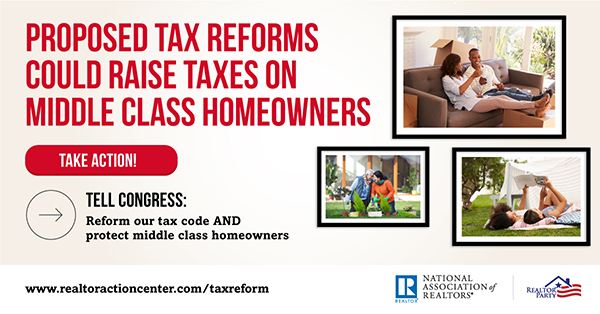 ---
Need to Pay Your Dues or Register for a Class?